1415 K Thu 20 Jun 2002
Last night I went to the ordination as a bishop of Mark Coleridge at St Patrick's cathedral in Melbourne.
At the back of the Mass booklet is his Curriculum Vitae. He was born in Melbourne on 25 September 1948. He was educated in Adelaide and Saint Kevin's College in Toorak.
Here is some of the Appointments section in the CV:
Deacon, East St. Kilda, August 1973 - February 1974.

Assistant Priest, Drysdale 14 Dec 1974. Doncaster East 25 Jan 1975. Ashburton 18 Jun 1977. Pascoe Vale 26 Jan 1980.

From July 1980 he studied for a Licence in Sacred Scripture at the Biblicum in Rome, completing this Degree in June 1984. From June to December 1984, he studied at the Pontifical Biblicum Institute in Jerusalem.

8 Jan 1985, on staff of Catholic Theological College (CTC)

1 Feb 1988 returned to Rome to complete his Doctorate in Sacred Scripture. In Apr 1992 he received this.

From 1992 he was a lecturer at CTC and was Deputy Master, in 1996 he became Master.

1 Jan 1998, he worked in the Secretariat of State, Vatican City.

7 Dec 2001, Chaplain of His Holiness.

3 May 2002, Pope John Paul II appointed him Auxiliary Bishop of the Archdiocese of Melbourne and Titular Bishop of Teveste.
The back of the booklet has his Coat of Arms. The motto is Sanguis et Aqua (Blood and Water) which is from Saint John's Gospel: "One of the soldiers pierced his side with a lance and immediately there flowed forth blood and water ..". In the top left is the Lion of Saint Mark. In the bottom right is a star representing Mary, the Morning Star.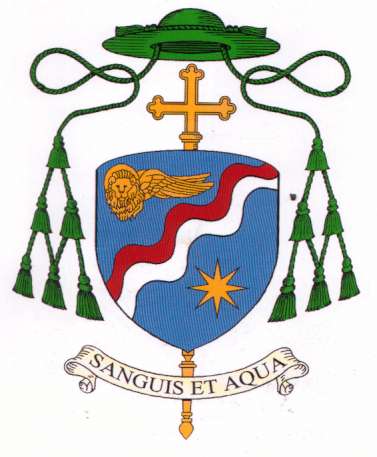 There were instructions on when to sit and stand in the booklet. It was correct in having "STAND" for the entrance procession at "SIT" for the first reading. But nearly everyone sat for the Kyrie and Gloria. I'm not sure why. I arrived a little late and was standing at the back for them.
Instituted lectors were available, but the seminarians from Corpus Christi College were used as altar servers. Instead the readings were done by Brigid Coleridge and Sr Stella O'Donnell NDS. The booklet listed seven Masters of Ceremonies.
There were lots of bishops at the Mass, including Cardinal Clancy, Cardinal Cassidy, Francesco Canalini (the Apostolic Nuncio), Archbishop George Pell, Archbishop Denis Hart, and retired Archbishop Frank Little.
Bishop Coleridge gave an impressive talk at the end of Mass, talking about the staff, cross and ring he had received.
Copyright J.R. Lilburne, 20 June 2002. Last updated 15 July 2002.